Is Your Pharmacy Benefit Manager Accredited?
April 10, 2020
By: Travis Taylor, Marketing Specialist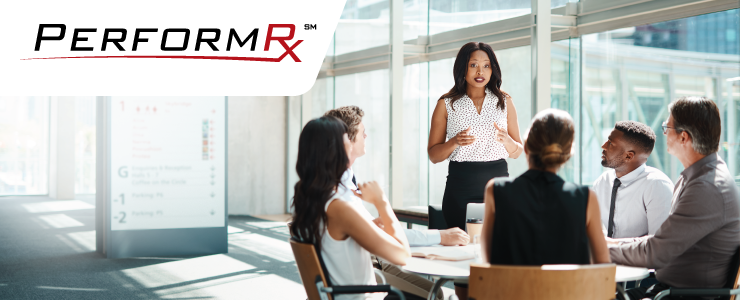 In a fluid industry, where the health and well-being of our stakeholders' members are our top-priority, it's important that we meet national standards for quality, accountability, and consumer protection. Through accreditations by multiple independent, third-party organizations, PerformRxSM collaborates with stakeholders to promote the provision of safe, high-quality care and member services guided by the following goals:
Satisfy health plan contract requirements in meeting performance access standards.
Categorize and collectively review established performance metrics.
Identify opportunities for improvement and monitor interventions from the data.
Maintain a state of continuous readiness for accreditations.
Manage and improve the processes to track, trend, and categorize complaints to develop interventions linked to defined opportunities.
PerformRx's Accreditations
URAC®
PerformRx was one of the first PBMs to achieve URAC accreditation for PBM and has maintained this designation since 2007. Additionally, in 2012, we achieved URAC accreditation for our drug therapy management (DTM) program. PerformRx is one of only four PBMs that currently hold a URAC DTM accreditation. This endorsement enables PerformRx to be at the forefront of delivering best-in-class DTM programs, which provide the high-caliber quality of pharmaceutical care to our clients and their members.
URAC's approach to the accreditation process facilitates learning in the client organization. Rather than simply checking off a list of requirements, the organization going through the URAC accreditation process is creating a framework for continuous improvement. This approach supports and stimulates local innovation, and is the real value in achieving the URAC accreditation seal.1
Through these URAC accreditations, PerformRx's stakeholders can trust that the PBM and DTM programs meet these important objectives set by URAC:
PBM Program

Meets key benchmarks in service quality.
Has processes to identify consumer safety issues.
Promotes rational, clinically appropriate, safe and effective drug therapy.
Ensures the formulary is up to date.
Includes review of the therapeutic advantages of drugs based on scientific evidence and standards of practice.
Adheres to standards for P&T committee membership representation, its functions, and its responsibilities.
Provides for a formulary appeals process, including peer clinical review.
DTM Program

Drives appropriate therapeutic outcomes for consumers and reduces adverse events.
Promotes rational, clinically appropriate, safe, and cost-effective DTM through evidence-based medicine.
Encourages communication about medication use.
Supports population specification, consumer identification, and recruitment.
Creates a process for DTM outcomes measurement and quality improvement.
"With a necessary educational component that is often now part of the dispensing of complex and expensive prescription medications, drug therapy management organizations benefit from proving their performance. By meeting rigorous quality standards and measures, URAC has accredited PerformRx as a recognition of its ability to adhere to the best practices related to factors such as coordinated care, counseling and education, and consumer protection," said URAC President and CEO Shawn Griffin, M.D.
NCQA

PerformRx received its National Committee for Quality Assurance (NCQA) accreditation in utilization management (UM) in December 2017. NCQA's Utilization Management accreditation is a quality-driven assessment program, focusing on consumer protection and customer service improvement. NCQA standards are a road map for improvement — organizations use them to perform a gap analysis and align improvement activities with areas that are most important to states and employers, such as network adequacy and consumer protection.2
In order to assist stakeholders under NCQA guidelines, PerformRx:
Reviews the NCQA Health Plan Standards annually.
Creates a crosswalk of NCQA standards against compliance statements and supporting evidence for those functions that are delegated to PerformRx.
Supports evidence with call-outs documenting which specific NCQA standard elements and sub-elements are met by different provisions within relevant PerformRx policies.
Supports our customers in preparing for compliance with NCQA performance criteria and provides data with NCQA and HEDIS® reports.
Utilizes clinical staff to serve as consultants regarding initiatives that could increase survey performance.
"Achieving Utilization Management accreditation from NCQA demonstrates that PerformRx has the systems, process and personnel in place to conduct utilization management in accordance with the strictest quality standards," said Margaret E. O'Kane, President of NCQA.
Additionally, PerformSpecialty®, PerformRx's specialty pharmacy, holds URAC Specialty Pharmacy and Accreditation Commission for Health Care (ACHC) specialty pharmacy and DMEPOS accreditations.
A Culture Committed to Quality
For over two decades, our focus has been on providing optimal service through a clinical culture that seeks to provide members with high-quality care while helping to control costs for our health plan partners. That culture is reflected in our employees, a majority of whom have a clinical background in pharmacy, and in the services we provide. Commitment to quality and the highest industry-recognized standards, including rigorous third-party measurement and validation of our performance, helps set us apart from the competition.
References