Technology Built for Audit Support
October 22, 2021
By Andrew Maiorini, Pharm.D., Vice President of Clinical Programs, and Gerald Bonko, R.Ph., Director of Pharmacy Utilization Management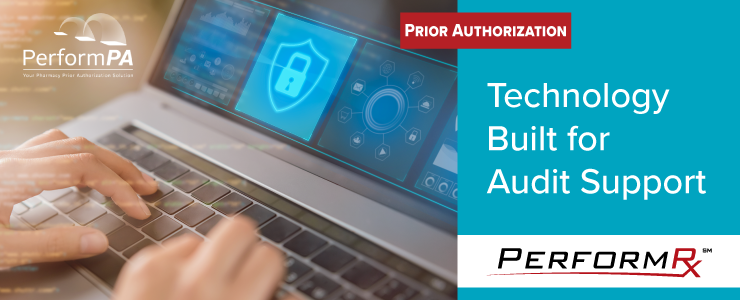 "We built the entire tool around the philosophy of making audits easier," says Gerald Bonko, R.Ph., Director of Pharmacy Utilization Management. He's talking about PerformPA, PerformRx's tool for processing coverage determinations and appeals. "Every single piece of work that's done in the tool is documented. That includes everything from the time stamp that shows receipt of the request for a coverage determination, to the notes kept by individual technicians and pharmacists."
This is important, Bonko says, because this is the type of information that needs to be populated in an audit universe. "It's all there, and it can all be pulled into the CMS templates."
According to Bonko and his team, "speed and accuracy" are important parts of PerformPA's audit functionality. During program audits, CMS and its auditors impose tight turnaround times for audit universes. CMS expects plans and pharmacy benefit managers to be ready when called upon, says Bonko, and failure to do so can be disastrous.
"We built the system specifically around this scenario," says Andrew Maiorini, Pharm.D., Vice President of Clinical Programs. "PerformPA automatically documents everything and is ready to run a report with just a few simple steps. Based on our experience, we know that it's better to spend your week combing through the universe and preparing your clients for the actual audit, rather than worrying about generating a universe."
That philosophy is part of the reason why no PerformRx Medicare Part D client experienced an observation, corrective action plan, or immediate corrective action plan in all of 2020. It's also why the tool has been praised by auditors who have experienced its workings firsthand.
Before developing PerformPA, PerformRx's clinicians used a variety of pharmacy prior authorization platforms, but there were always problems. Many had confusing interfaces that were hard to explain to new employees. Others did not offer all of the necessary information in one location, and some were not always updated to meet the latest regulations.
Designed by pharmacists who understand the PA process, and used by our prior authorization team daily, PerformPA lets PerformRx complete the entire PA process in one web-based location. "We took an approach that allowed us to build a tool that would be user friendly and make sense, while being prepared and ready for what auditors would throw at us," Bonko says proudly. "It took some time, but we're here now, we're ready, and we carry that confidence into any audit that we're presented with."
To learn more, contact PerformRx at performpa@performrx.com or visit our PerformPA site.