10 Compliance Tips From 15 Years of Navigating Medicare Part D
October 5, 2021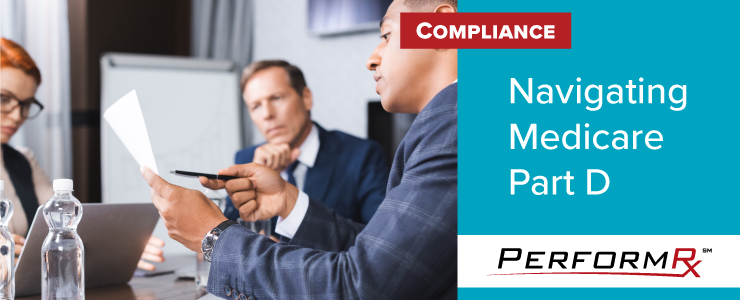 During 15 years of providing pharmacy benefit management services to Medicare Part D sponsors, PerformRx has had the opportunity to offer a comprehensive selection of compliant solutions to a rapidly evolving set of rules and regulations. Since 2006, we've developed and nurtured relationships with the Centers for Medicare & Medicaid Services (CMS), Part D sponsors, independent auditors, and the Office of Inspector General (OIG).
Over this time, we've also learned a few tips and tricks about Part D compliance. Whether you're new to Part D or just looking to see what you can gain from our experiences, below we offer our suggestions for navigating this ever-changing landscape.
When CMS says "you should," it is not being facetious. It's better to find an answer or solution to a "should" before it becomes a "must."
When commenting on draft regulations or guidance, consider how the guidance will impact the Part D program or your operations, positively and negatively. If you don't agree with what CMS is proposing, provide an explanation and offer an alternative that will fulfill the agency's ultimate goal. Provide concrete evidence and examples to support your position, rather than vague hypotheticals, such as a belief that a rule will be operationally difficult to implement.
Hire a third party to audit at least one high-risk area a year. Utilize a different firm each year to broaden perspective. Ensure that any noted deficiencies are discussed often, measurably corrected, and continuously monitored.
Participate in a strong internal auditing and monitoring program. Extract traditional CMS audit universes on a monthly basis. Perform mock audits to help you organize and prepare for the eventual CMS audit. The key to no surprises: Be prepared.
Be aware that corrective action plans happen. Understand how you resolve them and the fundamental cause from happening in the future.
CMS understands that perfection is unattainable, but it does expect effort within the industry. Keep a vigilant eye on CMS memos and presentations for areas of concern. If they cover an issue three or four times, it is important and likely to become an audit objective.
Review the OIG Work Plan every year. It oversees CMS, and whatever the OIG audits, CMS responds to. You can stay ahead of the curve if you incorporate the OIG's focus into your auditing and monitoring plan.
While performing a self-audit, only request for auditable entities, processes, systems and activities that you have the capacity to review for 100% accuracy and completion. Asking your operational departments and vendors to produce unnecessary universes will not benefit your organization unless you have the capacity to review the universe for accuracy and completion. One good audit is more effective than 12 untouched universes.
Attend at least one CMS conference or webinar a year. They are free and sparsely attended. You will have an opportunity to speak directly with regulators who cannot ordinarily be contacted directly.
Consistently respond to CMS during open commenting periods for upcoming regulations and guidance. You have the ability to influence rules before they become final. Also, don't be afraid to ask CMS questions. Continuously touch base for clarification on guidance to ensure that you fully understand what the ask is before working on a solution.