An Inside Look at PerformRx's Drug Therapy Management Program
April 19, 2021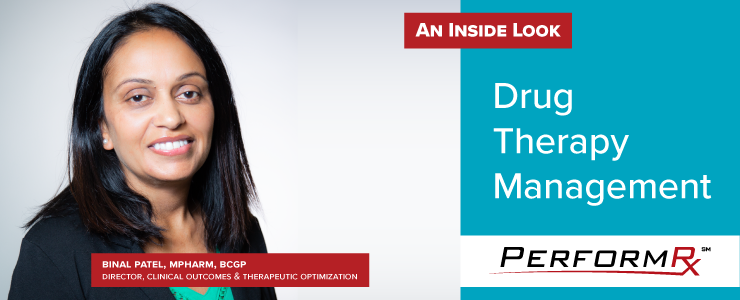 The practice of drug therapy management is centered on driving better results. Our Drug Therapy Management (DTM) program at PerformRx is one of only five such programs accredited by URAC, a testament to our mission of helping clients, providers, and members use effective medication therapy to improve health and wellness.
Through our custom-created programs, our goal is to help members improve their therapeutic outcomes while working to decrease overall health care costs for our health plan partners. We asked Binal Patel, our Director of Clinical Outcomes and Therapeutic Optimization, to provide an inside look at our DTM program as well as what's to come for the industry as a whole.

Can you provide an overview of the structure of PerformRx's Drug Therapy Management program? What is its overall goal?
PerformRx's DTM program is a member-centric program designed to comprehensively manage a member's medication regimen as well as empower them to manage their personal health. The DTM team is comprised of pharmacists, pharmacy technicians, and nurses. The program's goals are to:
Optimize medication regimens
Improve member outcomes
Decrease overall health plan expenditures
Within the DTM program, we aim to drive positive changes in medication regimens by collaborating with the member and their care team, including their prescribers.
What do you believe sets us apart from the competition?
I believe there are four key things that set us apart from our competition: our accreditation, our staff, our approach to program design, and our focus on holistic medication reviews.
First, our DTM program is URAC-accredited. We continuously evaluate our programs and processes, adjusting and modifying them as necessary to align with these standards.
Our team consists of individuals with varied backgrounds in pharmacy, which enhances the scope of our collective experience. Our entire team is MTM-certified through a program accredited by the Accreditation Council For Pharmacy Education (ACPE). Approximately half of our clinical pharmacists are board-certified in pharmacotherapy, ambulatory care, or geriatrics, enabling them to practice at the highest end of their pharmacist license. Our nurse is also certified in care coordination and transition management through the American Academy of Ambulatory Care Nursing.
Having a team that values advanced learning ensures that we are at the forefront of clinical pharmacy and pharmacy case management. It also shows that we are qualified to provide optimal DTM services to our clients and their members.
Our ability to individualize our approach for each DTM program to enhance the outcomes for that specific program also sets us apart from our competition. We tailor our programs to meet the unique needs of a health plan's member population and are constantly making adjustments and exploring new pathways to promote optimal health outcomes.
We look at members in a holistic manner to enhance the delivery of high quality care. For example, a member could be enrolled in our diabetes DTM program, but our clinical team will address medication-related problems (MRPs) associated with comorbid conditions or any identified social determinants of health issues, and assist with care coordination, if needed.
What tools does PerformRx utilize to help foster positive outcomes for our clients' members and ensure overall program success?
Overall program success really begins at the initial point of program development and targeting. We collaborate with our clients to develop and implement programs that truly meet the needs of their member population. Continuous program assessment and the flexibility to make changes as the need arises allow us to add to the program's success.
Before we implement a program, we research the needs of the target population and gather plan-specific information, including available resources. This allows the clinical team to provide care for the member within the scope of their health plan benefits.
We collaborate with PerformRx's formulary and utilization management teams to implement and manage DTM programs that fall within the scope of the health plan's formulary and prior authorization criteria. For example, through our member and provider interactions, we are able to work with the utilization management team to provide additional information that may be needed for the clinical review of prior authorization requests.
What role does technology play in our DTM program? Do you see further advancements in technology on the horizon?
Technology plays a very significant role in our DTM program. At the most basic level, it provides us with the tools to document all of our interventions. We use PerformPRO®, our proprietary software, to identify and proactively address MRPs for targeted members.
PerformPRO utilizes an integrated data warehouse containing both pharmacy and medical data. The platform assesses that data based on user-provided filters to accurately identify a targeted population. Clinical decision-making modules and proprietary gaps in care, built into the application, allow the pharmacist to review, prioritize, and address the associated MRPs. Educational materials are also stored within the application.
PerformPRO gives the clinical team the ability to create and send communications to the provider and member as appropriate. Through the application, we are also able to track the outcomes of our clinical interventions, which enables us to evaluate the impact of our programs.
I believe that the next step, from a technology perspective, is to be able to allow communication between PerformPRO and the electronic health record (EHR). At the most basic level, pharmacist-created interventions would be communicated to the provider through their work queues in the EHR, reducing the need for faxes or mail. Making this information more accessible to the provider may lead to better outcomes.
In addition to this, we are working to advance our programs through increased use and integration with telehealth. This will allow our team to consult with members through a videoconferencing platform designed to increase member engagement, which is important for achieving positive outcomes from our DTM programs.
What common misconceptions about DTM programs do you see within the industry? What areas do you feel could be improved in the industry as a whole?
Two of the most common misconceptions regarding DTM programs have to do with the actual role that the pharmacist plays, and the perceived increased costs associated with the program. As pharmacists, we are the drug therapy experts; within the scope of the DTM program, we strive to collaborate with the member and their care team to optimize their medication regimens. We do not and cannot operate independently of the care team. DTM programs do cost money and may result in increased pharmacy costs in the short-term, but these increases are expected to be offset by medical cost savings.
I do believe that DTM programs need to be a "standard of care" for our highest risk members rather than add-on, stand-alone programs. Pharmacists are an integral part of our health care system, and expanding pharmacy services beyond traditional sites, such as retail pharmacies, to clinical services led by a pharmacy benefit manager increases access to health care.
How do you envision the future of drug therapy management? What trends do you expect to emerge over the next few years?
The future of drug therapy management is full of limitless possibilities! Over the last few years, our programs have demonstrated the value they bring, not only by reducing overall health care expenditures while leading to improvements in medication optimization, but also through member satisfaction. DTM programs help address social determinants of health issues related to medication access and triage other issues to appropriate care team partners. In light of all these, DTM programs should only grow and strengthen.
I do think that DTM programs will become a core component of disease management as the cost of pharmaceutical care, and health care in general, continues to increase. DTM programs bring significant value to the member, the prescriber, and the health plan.
DTM programs offer pharmacists a nontraditional clinical pharmacy career path, which will enable our profession to not only grow, but also expand the role we play as part of a health care team. Similarly, DTM programs offer pharmacy technicians and nurses a novel way to practice. The increased professional interest in this field will help ensure that we have a well-trained and dedicated team to run these programs.
Email PerformRx today at info@performrx.com to learn how our MTM programs can help to improve your members' health and well-being.
References