Impact of a pharmacy-led medication adherence program for disease-modifying therapies in patients with multiple sclerosis.
July 29, 2020
By: Courtney Spina, Pharm.D., B.C.A.C.P.; Sheena Cherian, Pharm.D.; Mariel Shull, Pharm.D., B.C.A.C.P.; Roger Luo, Ph.D.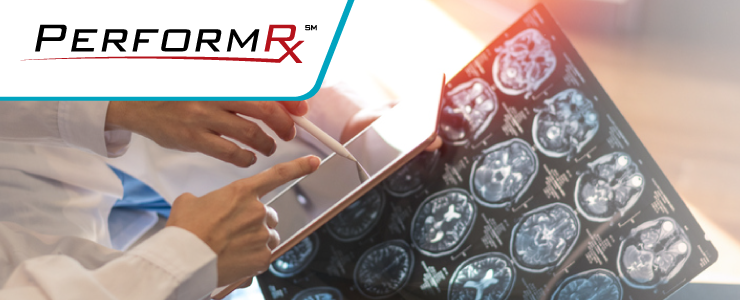 There are currently no curative treatment options for patients with multiple sclerosis (MS) , but disease-modifying therapies (DMTs) are available to reduce the rate of relapse, decrease development of neurologic lesions, slow disease progression, and improve the overall quality of life.
Numerous clinical studies have established that the optimal way to obtain therapeutic benefit from DMTs is to optimize medication adherence, but this is a difficult task to achieve, and even more difficult to sustain, for many patients. Studies assessing adherence to DMTs in the real-world setting suggest that 25 percent to 40 percent of individuals who were started on a DMT were non-adherent or discontinued treatment one to five years after initiation.
The Pharmacy Quality Alliance, in commitment to promote appropriate medication use, also has acknowledged the importance of optimal medication adherence in the management of MS by endorsing a quality measure around adherence to non-infused DMT options, defining adherence as a proportion of days covered (PDC) rate of ≥80 percent.
At PerformRx an MS medication adherence program was implemented in a Medicaid line of business to help attain and sustain adherence to DMTs. This pharmacist- and technician-driven program consists of routine targeted medication reviews for members receiving DMTs. If necessary, the clinical team will complete patient and provider outreaches to resolve any medication-related problems (MRPs) identified.


Data Analysis
*Performed on the population that met criteria.
Analysis of types of medication-related problems identified was completed for all members enrolled in the MS medication adherence program.
Medication adherence was assessed:

Nine months before intervention (enrollment).
Nine months after intervention (enrollment).

Comparator population (control group) was identified in a second Medicaid population using a direct matching process based on the values of patient age range, gender, and risk range of health care resource utilization calculated through CareAnalyzer.
All analytics were performed in the Statistical Analytic System.

Data regarding types of MRPs were obtained using internal reports and analyzed using descriptive statistics.

Conclusion
The most effective way to decrease the rate of relapse, slow disease progression, and improve quality of life is to optimize adherence to DMTs. Implementation of a PerformRx MS medication adherence program in a Medicaid population positively impacted adherence rates when compared with a control group with similar characteristics and risks. The most common MRP types identified were formulary management and medication adherence.