Setting the Standard - Training, A Process and Product of Ongoing Improvements
Patrick Gallagher, R.Ph., Vice President, Operations; Travis Taylor, Marketing Specialist
May 9, 2018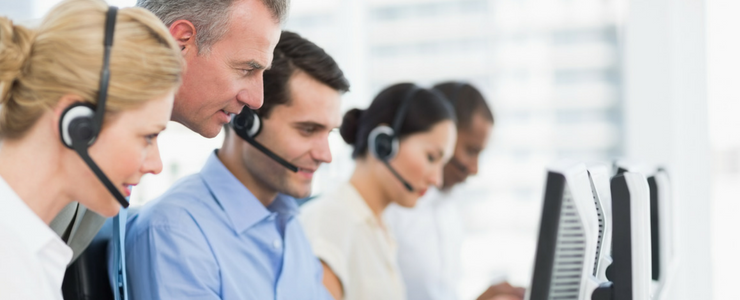 Training, in its most basic form, is instruction related to a task. As an individual asked to perform a task, you ask yourself "What is the task?" "How and when do I do it?" "How will I be measured on my performance?" When it comes to service organizations like PerformRx, training and quality assurance are essential components of creating a successful, proactive customer care environment.
At PerformRx's Contact Center, our associates are tasked with the obvious duty of providing callers with timely, accurate information in a professional manner; however, the key differentiator lies within what goes on behind the scenes.
With respect to customer care, PerformRx takes a comprehensive approach to its training and quality assurance programs. The approach not only addresses the mechanics of the job, but the soft skills and motivations for why the job should be performed in a certain manner. Associates are required to participate in an extensive on-boarding program, which provides overviews of all the systems in place and how to efficiently navigate them. Fundamental business practices, crafted directly by executive leadership, provide insight into the scope and breadth of the organization's managed care and pharmacy benefit management background.
After the initial on-boarding, job-specific training ensures associates will be consistent and accurate during their day-to-day performance. Calls received by our associates are measured by metrics, including average speed of answer, abandon rate, service level, hold time, calls received and calls handled. Feedback from clients, peers, and industry leaders is incorporated into the training program.
In fact, all of our internal training programs are offered to our clients, both live and via computer. This makes it possible for everyone to be on the same page, keeping them up to speed with everything we do and promoting transparency and accountability. While these types of measures are necessary and often contractual, they only tell part of the story.
Our training and quality assurance program's importance to the Contact Center's overall performance cannot be over-stated; however, the combination with our standard operating procedures (SOPs) Standardization and Expansion Program is what makes us "World Class." In 2015, our SOPs Standardization and Expansion Program was launched, initially developing procedures for our Medicare clients in response to federal regulatory compliance.
As we added clients outside of Medicare, new SOPs were formed to deliver pharmacy benefit management services for companies with different requirements and less stringent regulations. We now provide a range of pharmacy services to more than 25 Medicaid, Medicare, and commercial clients, each with its own unique and constantly evolving SOPs. Our clients have access to their plan-specific SOPs, allowing immediate self-service access to policy sign-offs.
In addition to our standard SOPs, "high-level" SOPs, such as contingency plans in the event of natural disasters and role-based SOPs for placing an associate on a performance improvement program, have been accounted for. These SOPs include the necessary day-to-day procedures and scripts that are used by our associates in every interaction.
They include call quality monitoring, new-hire training procedures, cross-training procedures, and escalations and downtime scenarios, in addition to various greeting and closing scripts and coaching and appeals. Furthermore, these SOPs are reviewed by a special committee on a regular basis to ensure that their information remains accurate and relevant.
The cohesiveness of PerformRx's training, quality assurance, and SOPs Standardization Program has left a significant impact on the Contact Center's performance. Since 2015, overall customer satisfaction for both members and providers improved 5 percent and 4 percent, respectively. Twenty percent of our associates improved to a quality rating of "exceptional."
During the previous two years, we have doubled the number of our associates achieving "World Class" status, and our first call resolution rates jumped by 2.5 percent. [TT1] Most notably, in 2016, PerformRx earned the Customer Experience Award of Excellence for its best practices in SOPs by SQM, a specialist firm for assisting organizations in using voice of the customer research data to measure and improve their contact channels' customer experience, operating costs, and retention.
"I'm so satisfied with the service because my customer service representative was caring and on point. You need a million like her, she was absolutely outstanding. She was very courteous, very patient, very attentive and acted as if she really cared. After a while I began to believe her because she kept it up. So thank God for her, and I pray that you get more like her. I don't remember her name, but I'd know her voice if I ever hear it again. May God bless you and thank you so very much." – AmeriHealth Caritas Louisiana member
The training and coaching programs assess the content and quality of the interactions our associates are having with callers. While most of our competitors' contact centers operate on a time limit policy, PerformRx's concern is solely focused on the quality of the call and doing our best to ensure our customers receive a sound resolution. The Contact Center is a process and product of ongoing improvements. PerformRx plans ahead and prepares to consistently meet or exceed the standard metrics outlined above, but even more importantly, we continue to exceed quality measures for the millions of members we serve.